And the correct answer to the Too Many Cooks video puzzle was…
CHEF HUNAN! This Ocean Avenue restaurant is a solid choice for Chinese comfort foods like sesame chicken and honey walnut prawns.
This puzzle required carefully watching the Mission Street Puzzles production "Too Many Cooks" and realizing that each scene included a character signaling alphabet letters in semaphore. These semaphores spelled two messages: "TABLE BINARY SCRAMBLE" and "ALLRECIPES BEST BROWNIES." The latter points you to a delicious-looking brownie recipe on allrecipes.com, and you'll notice that all of the ingredients for this recipe show up in scenes of the video.
"TABLE BINARY SCRAMBLE" directs you to look at the wooden table that appears in almost every scene of the video, with a changing set of objects on top of it. In each group of five scenes, the absence or presence of an object encodes a 0 or a 1, which as a five-bit sequence encodes a number between 1 and 31. This number can be converted to a letter of the alphabet (1=A, 2=B, etc.), and the objects together spell four separate words: "BLUE HAT MEANS FIRST."
In the credits, the initials of the actors spell out a similarly cryptic message: "GLASSES MEAN SECOND LETTER OF INGREDIENT." And the character names throughout the video turn out to be famous chefs' names, each with an extra letter buried inside. These extra letters spell: "MSP SHIRT MEANS THIRD LTR."
Looking at the scenes with brownie ingredients, each one contains a blue hat, glasses, or a Mission Street Puzzles (MSP) T-shirt. Use this to index into the first, second, or third letter of the ingredient name, respectively.
That spells CHEF HAUNAN–but, in line with the theme of "too many letters" in chefs' names, the A is extraneous, so the final answer is CHEF HUNAN!
---
This week's Fastest Solver was DavidSteinAndFriends, followed by MA.D GG.B in second and Jeff in third! Congratulations!
Best Photo (and Fastest Photo) by far came from Ducky Charms and Team i eta p sub pi, who said hi with a "Too Many Cooks" scene of their own. We absolutely loved it!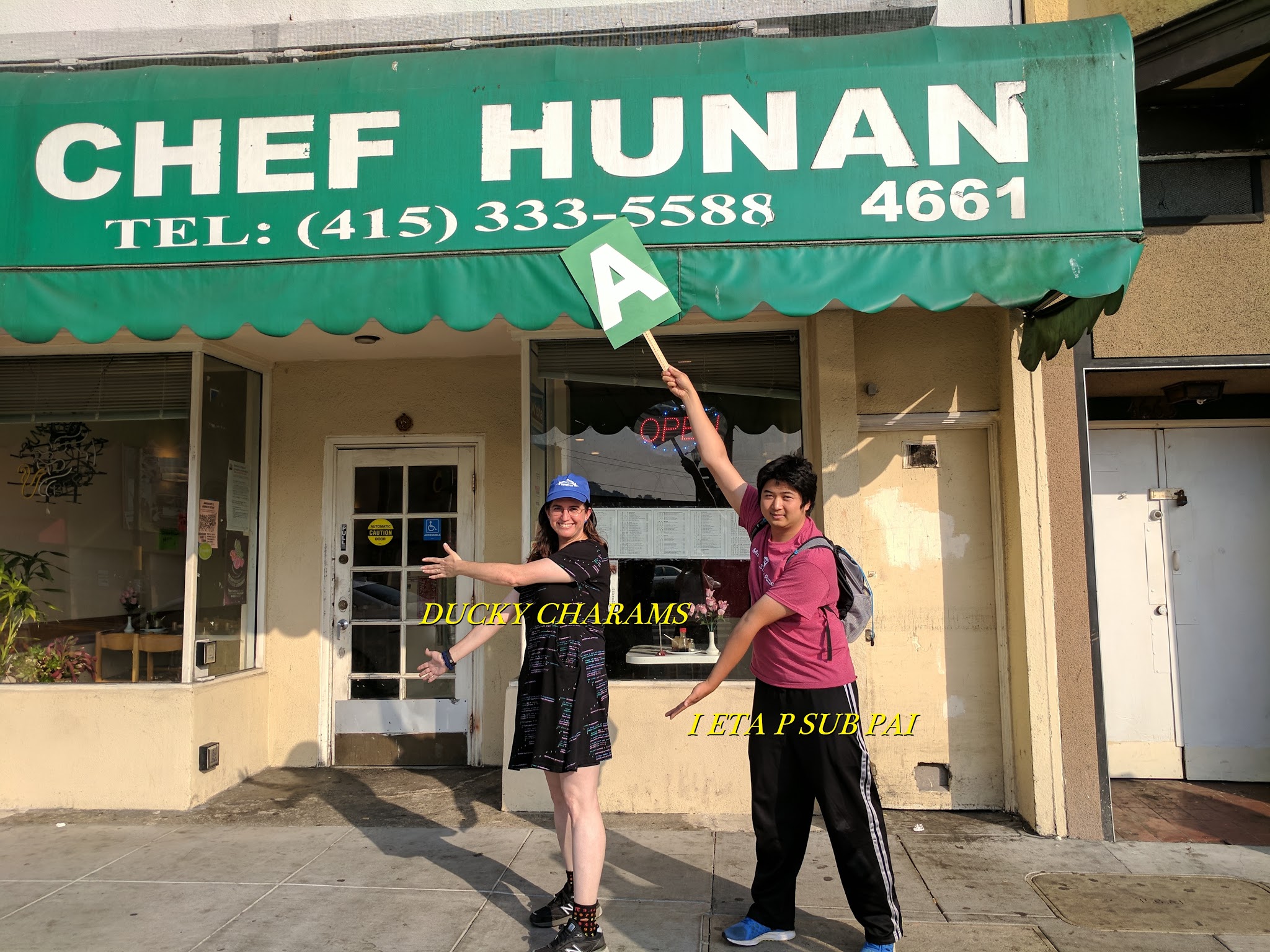 Also, AJO was our lucky random T-shirt winner this week! Congrats!
And with that….this week's puzzle is live,  Touchdown! Good luck and happy solving!
P.S. For those of you who caught the leaked puzzle that was accidentally released, please ignore it! All teams will receive an effective solve time of 00:00 for that puzzle for purposes of the leaderboard. Sorry about the mistake!
Note: Neither Allrecipes.com nor Chef Hunan is affiliated with Mission Street Puzzles in any way.