And the correct answer to the Say Uncle puzzle was…
HOME (ON NORIEGA)! Home is a charming little coffeehouse, known for its menu items that are both tasty and visually pleasing–such as its beloved birthday cake latte.
The solution to this puzzle involved figuring out the Pickleton family tree (many thanks to Team Quirksome Quells for the image!):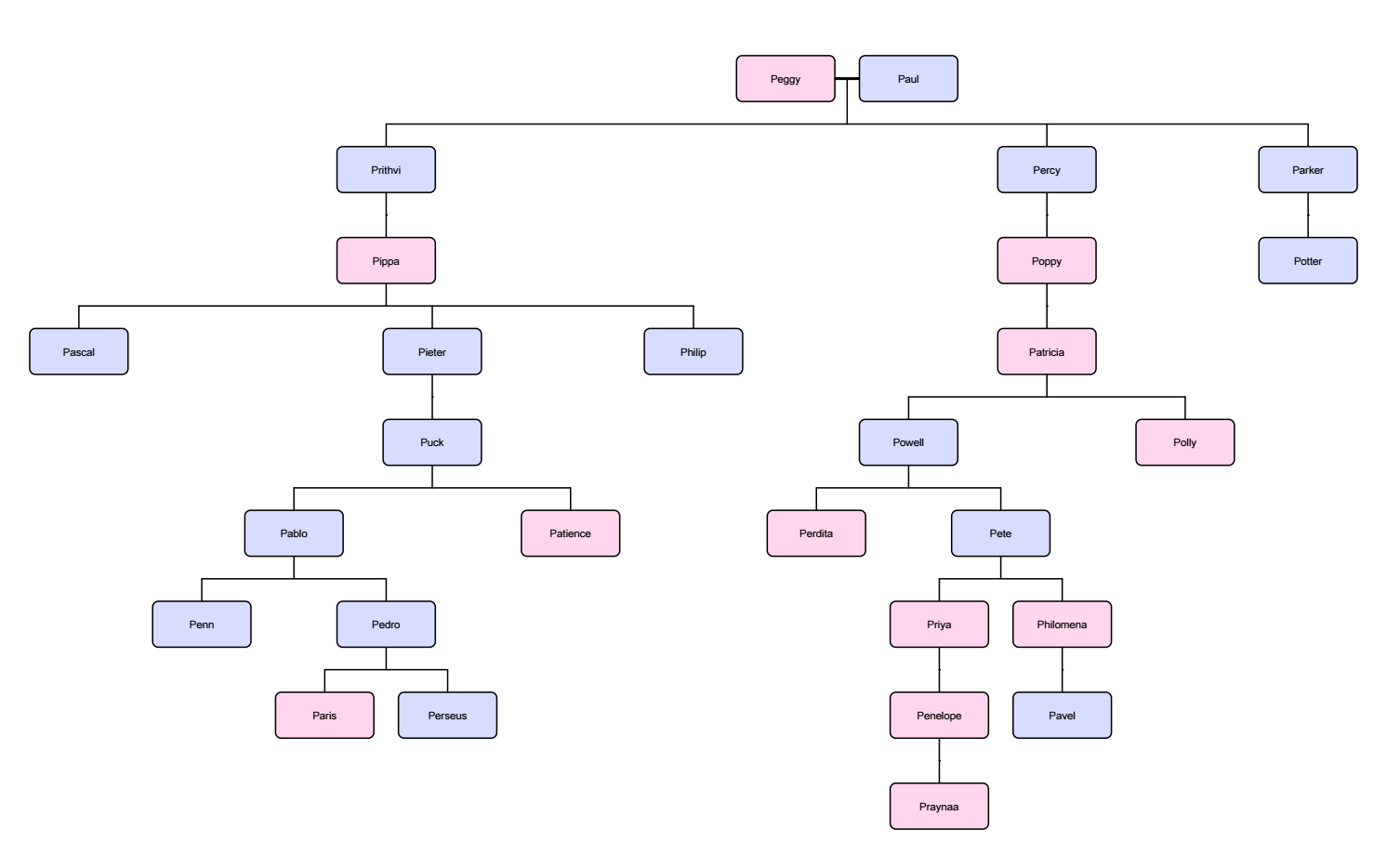 Then, answer the questions about the relationships between cousins:
Pippa & Polly – first cousins, twice removed
Perseus & Pete – fourth cousins, twice removed
Patience & Poppy – first cousins, thrice removed
Pascal & Powell – second cousins, once removed
Pavel & Praynaa – first cousins, once removed
Penelope & Puck – third cousins, thrice removed
Pablo & Powell – third cousins, once removed
Perdita & Philip – second cousins, twice removed
Pieter & Priya – second cousins, thrice removed
Pedro & Perdita – fourth cousins, once removed
Paris & Patricia – second cousins, four times removed
Philomena & Potter – first cousins, four times removed
Penn & Powell – third cousins, twice removed
Once you have selected all the correct choices from the dropdown menus, the second part of the puzzle will reveal itself: a series of crossword clue pairs, where the second word of each pair is the first one with some letter removed a certain number of times. Solutions:
HEATHER / EATER
TABOO / TAB
MOMMY / OY
BEAR / BAR
ORANGE / RANGE
PENNANT / PEAT
ORNATE / ORATE
FOOLED / FLED
ERROR / EO
STAIR / STAR
TEEPEE / TP
GOGGLING / OLIN
MOANA / MON
Taking the removed letter from each pair in order provides the answer: HOME ON NORIEGA!
---
This week's Fastest Solver was Jeff! Congratulations! Following closely behind was Davidsteinandfriends in second place, and Quirksome Quells in third.
And for T-shirts… Puma Pants was the lucky random winning team this time! Hooray!
And with that….this week's puzzle Summer Reading List is now live! Good luck, everyone!
Note: Home is not affiliated with Mission Street Puzzles in any way.