And the correct answer to the "Ring Around the Rosie" puzzle was...
HOLEY CREAM! Holey Cream is a fun donut shop in Hell's Kitchen, known for creative donut ingredients like Fruit Loops, Gummi bears, and Nutella. You can even build your own donut ice cream sandwich!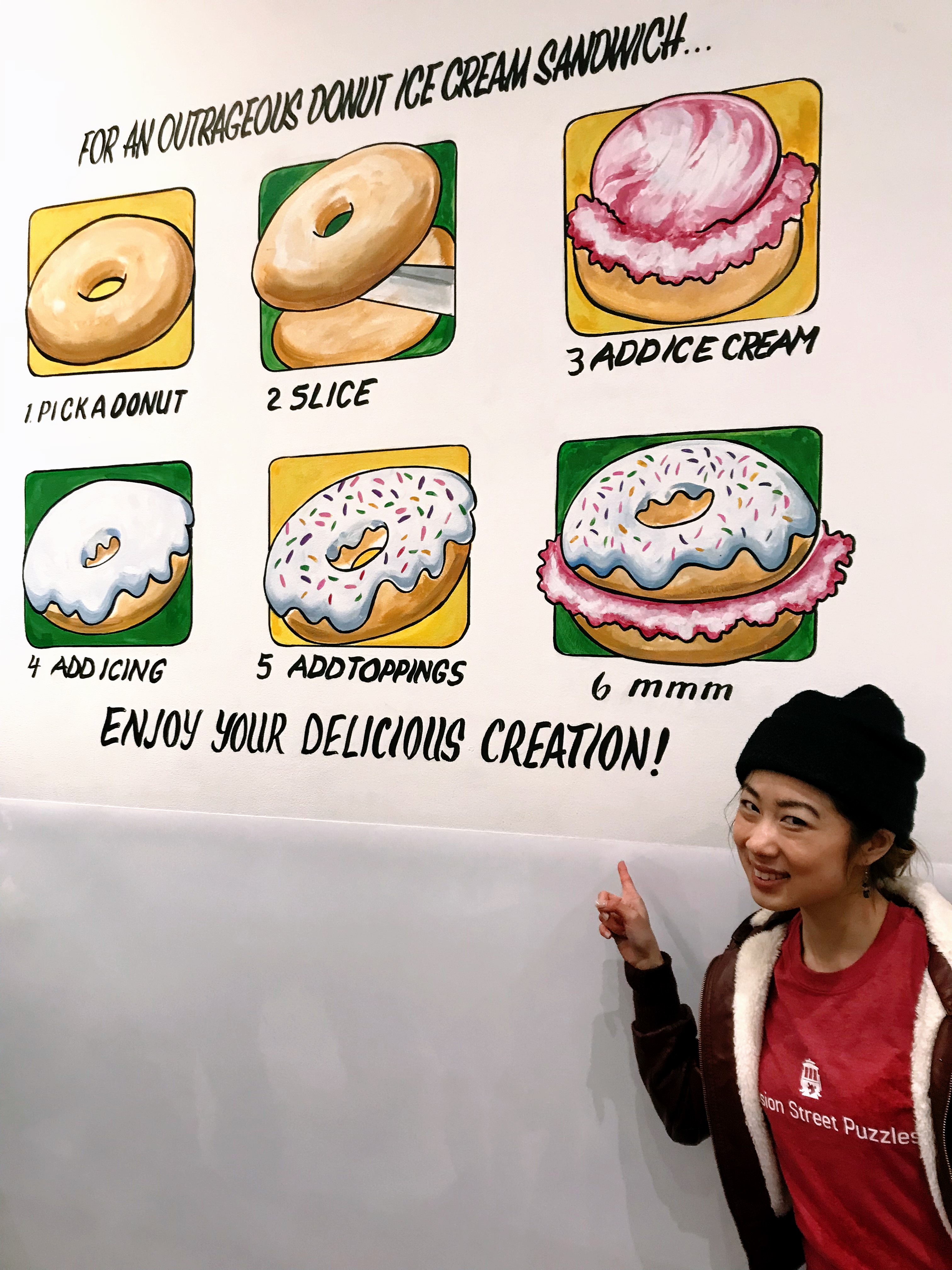 In this puzzle, each rose was associated with a "ring" of words, where the last letter of each word was the first letter of the next word. The answers for each rose were:
BOZO, ONION, NATURALLY, YOKE, EBB
IDIOM, MAGMA, ACTUAL, LASSO, OVERLAP, PARENT, TIMPANI
CORPSE, EVIL, LASAGNA, ATOMIC
TOOTH, HEAVY, YOLO, OSU, UMLAUT
RODEO, OSTRICH, HIKE, EAGER
OBSESS, STYLE, EVER, ROMEO
ICING, GRAM, MOMA, ALICE, EMOTION, NIGIRI
REVISE, ELEVATE, EDUCATOR, RUSTIC, COMA, ACTOR
AMONG, GRAFFITI, IDEALISTIC, CLAM, MONA
MONGOLIA, ATTIC, CLUTTER, RINGO, OPTION, NASTY, YAM
Steve spotted an animal moving three units west.
After filling in the blanks around each rose, you can read the initials of the resulting words in a circle (one word per rose):
EBONY (Ebb, Bozo, Onion, Naturally, Yoke)
OPTIMAL
LACE
YOUTH
HERO
ROSE
ENIGMA
CAREER
MAGIC
ACRONYM
Apply the process one more time to re-order the final set of words. This gives you a new set of two words:
HOLEY (Hero, Optimal, Lace, Ebony, Youth)
CREAM (Career, Rose, Enigma, Acronym, Magic)
…which is the final delicious answer, HOLEY CREAM!
Scott spotted an animal moving two units east and three units north.
---
This week's Fastest Solver was Tyler Hinman with a time of just 9 minutes and 23 seconds! Following on Tyler's heels by just seconds were Team Island in second and Jeff and Dana in third! Congratulations! To see where your team stands after the first four puzzles, check out the live leaderboard.
Susan spotted an animal moving one unit west and one unit north (from the second row to the northernmost row).
And the prize for Best Photo goes to… Team "For Jaha's the man he can bring it"! The team had to travel all the way from Ohio to New York to get a picture at Holey Cream with their official team mascot John Jaha!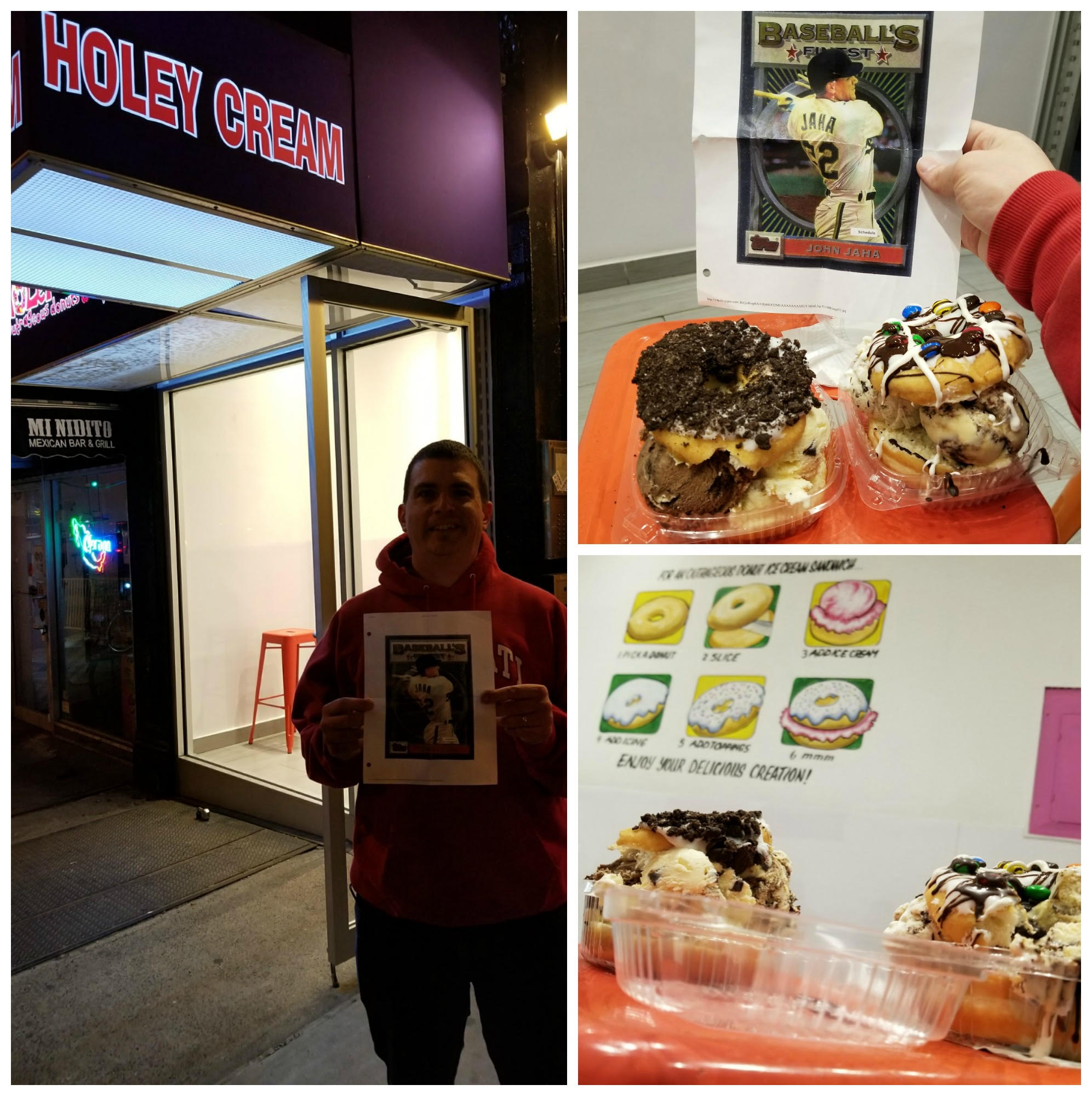 And with that, the next puzzle, "Spotted It" has been posted! Good luck and happy solving!
Note: Holey Cream is not affiliated with Mission Street Puzzles in any way.
P.S. Sally spotted an animal moving one unit east and three units north, but she never saw a monkey nor a mouse.