And the correct answer to the "Of Boys and Girls" puzzle was…
HALLYU K-STAR ROAD! This road in Cheongdam has become a popular tourist attraction featuring 17 GangnamDols, human-size bear sculptures painted in the style of famous KPop bands and artists, from PSY and Super Junior, to BTS, EXO and many more. Some of the artists even visit the area regularly to surprise their fans!
This puzzle presents us with some lists of definitions, and a grid to fill. At first look, most of the clues are rather vague and could be solved several different ways (there are 12 different months, Deep Purple has 19 studio albums, 26 words in the NATO alphabet, and so on), but some are rather specific (the "Montreal commuter rail" is very likely the EXO, the "Scientific explosion" could very well be BIGBANG, etc.). Googling some of these easier words (or recognising them), one can discover the pattern: The solution set for each definition contains the name of a KPop boy/girl band (hence the name of the puzzle). This fact, plus the notion that words are sorted alphabetically per length helps narrow down the possible answers for each definition:
Highest purity for a jewelry material: 24K
Notorious rapper: BIG
Acronym related to movie making: BTS
Montreal commuter rail: EXO
Mov. starring Will Smith: MIB
1970s rock subgenre: GLAM
Sci-fi military videogame franchise: HALO
Gritty film genre: NOIR
Month: APRIL
Hanna-Barbera canine character: ASTRO
Letter in the NATO alphabet: ROMEO
Shedding-card game: SPEED
One of the five senses: TOUCH
Double: TWICE
Parts of a bird: WINGS
You can find it on Spacex patches: CLOVER
Famous British scientific journal: NATURE
Black and white traffic sign: ONEWAY
US department store: TARGET
Title one can get in a competition: WINNER
Scientific explosion: BIGBANG
Common battery size: DOUBLEA
Paul Harvey used to say this: GOODDAY
Common character in social media: HASHTAG
School subject: HISTORY
Ghost: PHANTOM
Cryptocoin related to space: STELLAR
Female MGS character: THEBOSS
Has been a WWF and WWE Champion: TRIPLEH
Sweet pain?: CHOCOLAT
Bookmark: FAVORITE
Deep Purple album: INFINITE
Common polygon: PENTAGON
Book protagonized by Philip Marlowe: PLAYBACK
Male significant other: BOYFRIEND
What a student might do (while studying): HIGHLIGHT
Type of cupcake: REDVELVET
Number between ten and twenty : SEVENTEEN
Now that we have the right words (or at least most of them), it's time to fill the grid. There are exactly the same amount of lines as there are words, which suggest putting one on each; moreover, writing down one letter per square. What about the long vertical rectangles? Well, that's where words share a letter. This allows us to unequivocally fill the grid in a unique way.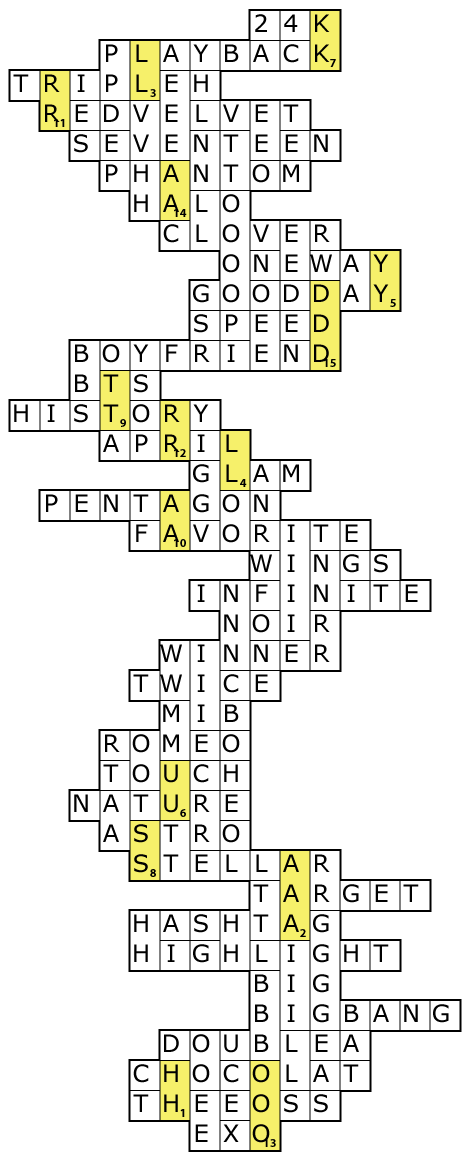 Picking the letters in the yellow rectangles, and sorting them by numbers, we get the final answer, Hallyu K-Star Road!
---
This week's first-place Fastest Solver was Cardinality, followed by teams Davidsteinandfriends in second and teammate in third! Congrats!
And with that, the next puzzle, "K-Pop Hit," has been posted! Good luck and happy solving!