And the correct answer to the Commencement Speech puzzle was…
DOSA! This Indian restaurant in the Mission, known for its flat breads, would make a great place for a graduation dinner. No wonder Valerie Valencia was hanging out there!
The first letter of each line of Valerie's speech spells, "WHO SAID EACH QUOTE?" Based on this clue, it becomes apparent that each sentence of the speech contains a quotation. For example, "Every adult, whether he is a follower or a leader, a member of a mass or of an elite, was once a child," was said by Erik Erikson. All of the quoted people have alliterative names: Ivan Ikyn, Alan Alda, Marilyn Monroe, Bruce Bochy, Ivan Illich, Christopher Columbus, Patrick Pichette, Erik Erikson, Nick Nolte, Tim Tebow, Amy Adams, Melanie Martinez, Eve Ensler, Tina Turner, Elliott Erwitt, and Ryan Reynolds. Their initials in order spell: "IAMBIC PENTAMETER." Almost each of the lines of Valerie's speech contains a phrase in iambic pentameter:
"to tell the truth we always feel unsure"
"expect to feel afraid but not retreat"
"x-cel in all the things you try to do."
"to make a point your school may not endorse"
"create a piece of art that's fresh and new"
"outdo your peers with unrelenting pride"
"lieutenant colonel, king, or Mr. T"
"of course the road ahead will have its kinks"
"remember all the ways to be a friend"
"heroic, perfect lives may seem the norm"
"to take a look around the room today"
"my choice of words is very careful here"
"like this, a gem that often guides my way"
The first letter of  each of these phrases spells: "TEXT COLOR HTML." Inspecting the HTML code for the speech reveals that the speech is written in numerous different shades of black, encoded as hex code #010010, #000101,  #001101, and so on. Each of these codes can be converted into a number between 1 and 26, which then corresponds to a letter of the alphabet. Putting these letters together gives the following message: "REMOVE VOWELS FROM URL."
Removing the vowels from "commencement speech" in the webpage URL points you to this secret page with the last line of Valerie's speech: https://missionstreetpuzzles.com/cmmncmnt-spchh/
Do all the previous steps again for this last line: take the first letter (D), figure out who said the quote (O – Ozzy Osbourne), extract the iambic pentameter (S – "suppress your fears, go forth, and conquer life"), and convert the text color to a letter (A – #000011). Putting these together gives the final answer: DOSA!
---
It was a clean sweep this week for the Oakland Blokes, who won Fastest Solver, First Photo, and Best Photo! Wow! Congratulations, guys (and we love those shirts)!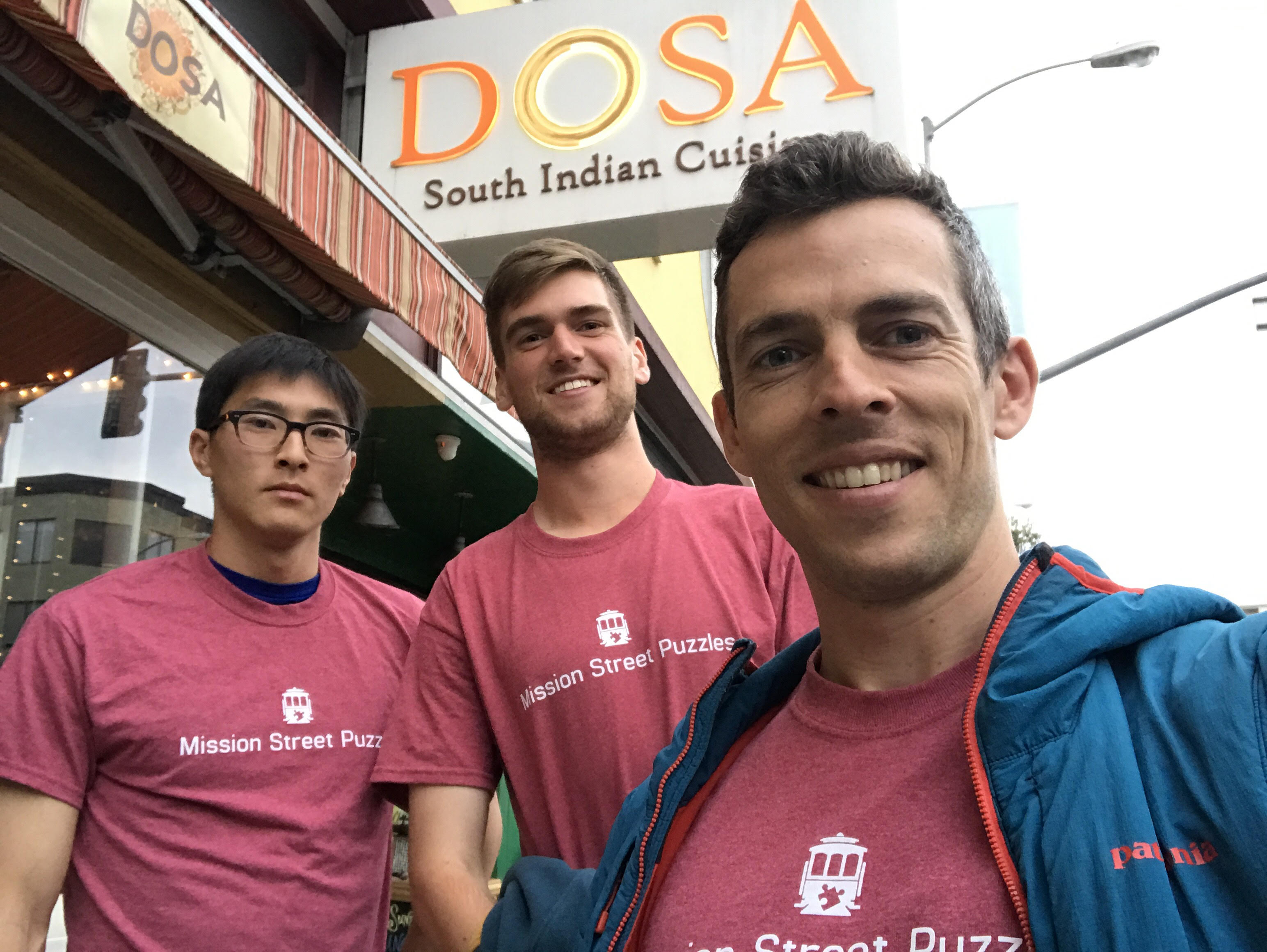 Honorable mentions for Fastest Solver go to MA.D GG.B in second place and Jeff in third. And kudos to everyone else who discovered the secret commencement speech continuation page and solved the puzzle–great work!
The all-time and monthly leaderboards have been updated to reflect the latest standings, and winning teams have been contacted about T-shirts. Team i eta p sub pi was the lucky random winning team this week! Hooray!
The next puzzle "Alphabet Game" is now live, a special Father's Day treat. Happy Father's Day, from Mission Street Puzzlers to dads everywhere! Once again, the top teams (Fastest Solver, First Photo, Best Photo) will receive T-shirt prizes, as will a randomly selected team that submits a correct answer. If you've already won a T-shirt, you'll receive another color after five wins. Good luck and happy solving!
Note: DOSA is not affiliated with this event or with Mission Street Puzzles in any way.